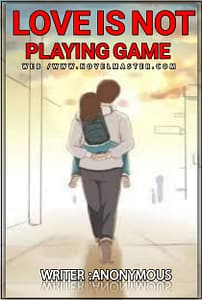 Story:Love is not playing game 
Catogary: web special 
By: Anonymous 
This short story is all about emerging three components of a family, one, a woman who dislikes her husband and daughter, a woman who considers another man superior to her husband. for more interesting short stories visit our site
Love isn't a playing game
In the dark without any moonlight,
There was one man who was waiting for his
spouse to come home in the dining room. Because his 5 years old daughter
stood crying for her mum to grasp her to nap.
Instead of her feed, she ate only a chunk of the bun and was napping in her father's embrace. At about
9 pm, while he was cuddling his daughter
in his arms on their bed,
his wife came home. He said:
Are you tired? Why are you coming home
so late kate?
"Don't intrude on my affair."
his wife replied to him shortly.
He fetched a glass of milk for his spouse.
But his wife said:
" I don't want it. Never offer me anything.
It brings me bored to see your face. I can't
live with you anymore. Figure me
for our divorce."
"Why?" said her husband
His wife replied
" I can't love you anymore you see.
you are zero to me. You have no frill to keep me glad for you."
"From the beginning, you know who I am."
answered back to her husband.
"No demand to tell me anything more
except signing."
She yelled out to her husband angrily.
"Tell your daughter main if you want me
to perform so. Hereafter when she wakens
Please do it."
answered back to her husband.
Because of their choice, the little girl was waking up crying.
"Both of you irritate me at any time when I
come home from my job. You Two
have to come out of
my cottage now!"
his spouse cried loudly.
Even though he committed know where to go, he couldn't perform anything. Regardless, Both of them had to quit the house.
"Come on my dear. Let's get around!
Your mum get wants us to stay here."
told the man angrily.
With the glow of his tiny daughter's light
They stepped through the twilight until
they entered one of his friend's
houses. He told him l don't know
what has transpired to his
friend everything. Then his companion said:
"No issue at all. Both of you
can stay with me here. Try to de-stress your daughter to nap. When his
daughter fell asleep, his friend
revealed to him what he saw. He said:
"You can look at it on my phone. I
have already sent it to you after I saw
them today. But you didn't watch it at all."
"My phone was disassembled by my little
daughter this morning while I put it
on the table where she could reach,"
he answered back.
" It's your rainy day if so." his companion said.
When he was seeing it, his cute spouse and one of the rich men clasped each other in the park. He couldn't see it all after he realized about his spouse.
9 years later,
Both dad and daughter could build-up
a nice cafeteria and a nice cottage in a big town. Call their cafeteria "Sun Shine"
One day, at approximately 10 am, there lived
a woman who met her rainy day at their
"Sun Shine" restaurant.
Her husband told to her
" I can't live with you. I have another
pretty wife to live with. I get very bored with
you .you are nothing for me."
"Why? You have said that if I divorce
my husband, you will love me until the
end of my life. I have sacrificed for you
everything. How could you do that to me?"
said his wife impatiently.
" Anyhow, we are not husband and wife."
told her husband.
And also the husband gave out of the
restaurant
and left her with a bare hand. She couldn't
pay for her crock with her cash. She was
left backwards with enormous guilt. Then one
of the maids said everything she saw
to the landlord of the cafeteria. When the
landlord appeared out and saw:
The cafeteria Owner inquired
" What has occurred to you?"
"Paul? Is it you?" inquired the woman.
When he stared completely, she was
his ex-wife. Meanwhile, she told
"So sorry for everything that I have
regaled you before. If you don't mind
I wanna tell that……"
The pretty wife of the cafeteria owner
and his daughter appeared out and heard:
The daughter said:
" Mom, no demand to say anything.
We glimpse everything in you.
"Laura, it's you?
Can I live with you, Sweetie? I'm destitute
presently. told kate.
" So sorry mum, you had been fired out
my dad and me in a twilight. You
only know your contemporary husband just
at that moment. You didn't adore me as your
daughter. You invited fire us out with
bare hands. So sorry for everything mum.
answered back laura.
"Ah! but I. ……"
Ago she could utter anything.
"So embarrassed kate, after you remembered hurt
my love,
I could get at a fine wife for my own life."
Also, Kate gave enormous guilt what
she remembered regaling them.
      Moral:Love is like a baby:It wants to
be feted tenderly.
        End…….
Novel Master online English Novels is an institution where you can read rude hero based online English Novels,  love cousin marriage based online English Novels, strict heroine based online English Novels.All kinds online English Novels are available here! Love based short story
Online English Novels,new Romantic online English Novels,cruel hero based online English Novels, contract marriage based online English Novels
For more moral
 based stories stay tuned us
To read more such stories visit our website Novel Master and read moral stories like this you will definitely like it.